Made in Europe

Recycled Materials
The Sikaiana knit has a simply soft waffle fabric - made mainly from a blend of recycled materials. The jumper comes with ribbed edges and a shoulder seam detail. Crafted in a regular fit and hip-length cut.
An effortless go-to for the entire year! Wear it with shorts for chilly spring-summer nights or with corduroy trousers and under a thick jacket during the colder months.
Designed in Barcelona. Crafted in Portugal.
Recover™: 50% recycled polyester 35% recycled wool, 15% polyamide


Avoids plastic and fabric waste
The model's height is 1.88m and he is wearing a size M.
Delivery
Delivery times:
Europe, UK and Switzerland:  1-10 working days.
Norway: up to 14 days.
USA: 3 to 4 working days.
For pre-order items, add the above delivery time for your region to the dispatch date.
For orders over 60€, we offer FREE standard delivery to European countries. For orders under 60€, delivery will cost 4.90€. 
*No delivery is available to the Canary Islands
For orders over 60£, we offer free standard delivery to the UK. 
For orders under 60£, delivery will cost 9.90£. 
For orders over 100CHF, we offer free standard delivery to Switzerland. 
For orders under 100CHF, delivery will cost 9.90CHF. 
For orders over 1,120NOK, we offer free standard delivery to Norway. 
For orders under 1,120NOK, delivery will cost 111NOK.
In Norway, import taxes will be applied and are determined by customs. We do not cover or foresee customs handling fees for Norway. Switzerland and the UK (including Northern Ireland) are now exempt from such fees.
Delivery cost to USA: 9$. Free shipping for orders over 200$.
Paid 24h Express Shipping available on EU orders.

Prices
For the EU, UK and Switzerland all displayed prices include respective VAT charges. VAT rates may vary between EU countries.
Returns
HOW CAN I MAKE A RETURN?
The way you make a return will depend on your location. Please consult our FAQs for full details.
DO I NEED TO PAY FOR MY RETURN?
Yes, as specified in our Terms and Conditions you will need to pay your return shipping costs.
For EU, UK and Switzerland customers, this cost will be deducted from your refund. If returning from Norway you can choose your preferred carrier and shipping rate.
For US customers, shipping is paid for during the returns portal process.
Materials
Recycled Polyester
Dependable, not disposable. 
With today's technology, we can turn PET plastic - mostly bottles - into high quality clothing. Redirecting the waste cycle, preventing landfill. 
The material lasts longer and comes with all the perks of virgin polyester but without such a cost to the environment. This means strength, wrinkle resistance and quick drying properties, but 75% less CO₂ emissions during production. That's on top of giving waste a genuine value. 
The production also avoids using yet more of a non-renewable raw material (crude oil) required for the creation of virgin polyester and consciously prevents toxic waste.  
In the future, we would like to recycle already recycled polyester, extending the lifespan of the material even more.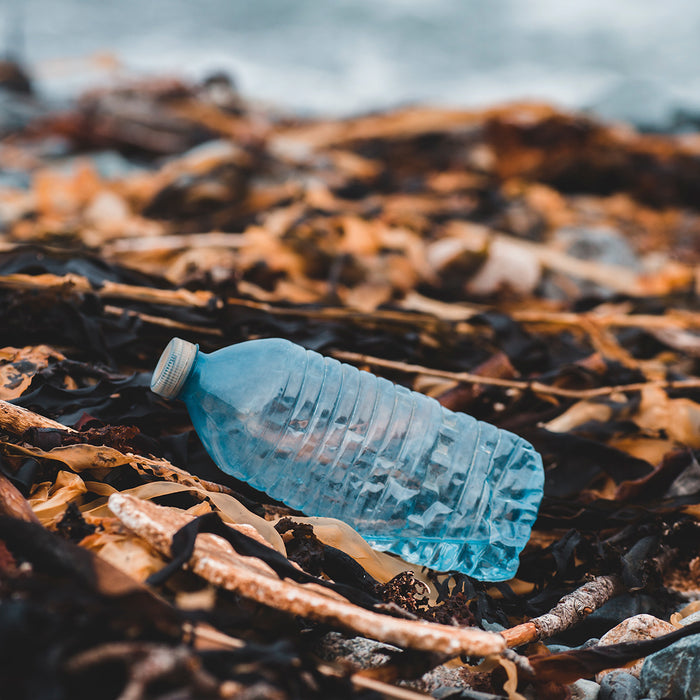 Recycled Materials
Stronger, together. 
We use a number of recycled yarns, often with blends that bring different fabrics together to provide enhanced durability and comfort. 
By taking the recycled route, we are able to save much of the energy, water and emissions needed to make fabrics from scratch. This makes a huge difference to the environmental impact of the garment, also preventing landfill and curbing fossil fuel use. 
In fashion it's extremely important to do this, as it lays the foundations for a truly circular system that says goodbye to the industry's wasteful attitude. 
We think knowing this makes our recycled clothing feel even better!