Made in Europe

Organic Cotton

Vegan
Take your next sustainable step with colourful striped socks. Soft rib texture made from a blend of organic and recycled fibres. Comes in mid-calf length with a stitched-on whale label.
Designed in Barcelona. Crafted in Portugal.
96% organic cotton, 3% recycled polyester and 1% recycled elastane

Pesticide free and reduced water waste

Vegan
Delivery
Delivery times:
Europe, UK and Switzerland:  1-10 working days.
Norway: up to 14 days.
USA: 3 to 10 working days.
For pre-order items, add the above delivery time for your region to the dispatch date.
We are currently offering FREE SHIPPING to all territories. Limited time only! Once this special offer ends our regular shipping costs will apply:
For orders over 60€, we offer FREE standard delivery to European countries. For orders under 60€, delivery will cost 4.90€. 
*No delivery is available to the Canary Islands
For orders over 60£, we offer free standard delivery to the UK. 
For orders under 60£, delivery will cost 9.90£. 
For orders over 100CHF, we offer free standard delivery to Switzerland. 
For orders under 100CHF, delivery will cost 9.90CHF. 
For orders over 1,120NOK, we offer free standard delivery to Norway. 
For orders under 1,120NOK, delivery will cost 111NOK.
In Norway, import taxes will be applied and are determined by customs. We do not cover or foresee customs handling fees for Norway. Switzerland and the UK (including Northern Ireland) are now exempt from such fees.
Delivery cost to USA: 9$. Free shipping for orders over 200$.
Paid 24h Express Shipping available on EU orders.

Prices
For the EU, UK and Switzerland all displayed prices include respective VAT charges. VAT rates may vary between EU countries.
No Return Policy
For sanitary reasons, we won't be able to accept returns (no exchanges, vouchers or refunds) for this product.
Materials
Organic Cotton
Nature needs nurture. And so do you.
Beautifully pure and oh-so soft, organic cotton is grown with care instead of chemicals. A healthier fabric.
That might sound odd but going organic ensures the well-being of the workers who pick cotton by hand, the environment, and ultimately your skin. The final fabric is not only highly breathable but free of synthetic fertilisers and pesticides. Compared to conventional cotton, organic cotton is better for soil health and land productivity. Water is managed in a more sustainable way. 
An organic approach is clearly of necessity and also avoids the greenhouse gas emissions of pesticide production.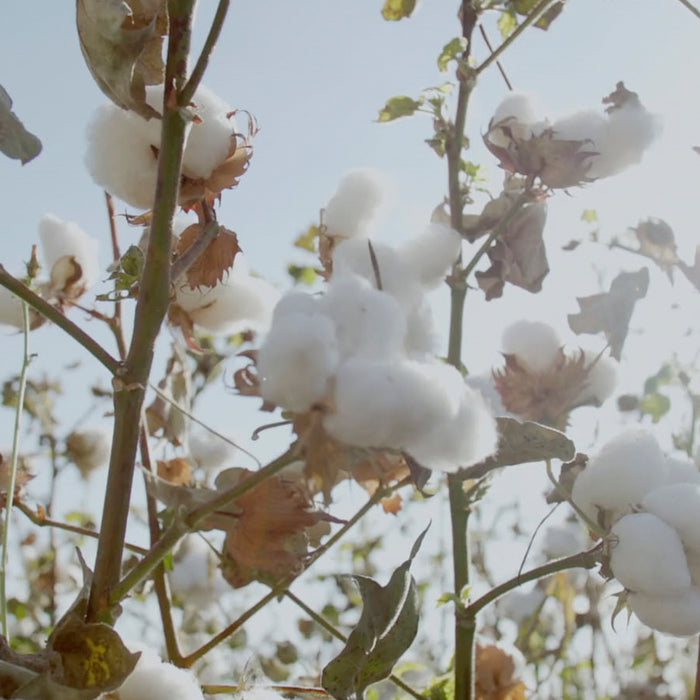 Recycled Polyester
Dependable, not disposable. 
With today's technology, we can turn PET plastic - mostly bottles - into high quality clothing. Redirecting the waste cycle, preventing landfill. 
The material lasts longer and comes with all the perks of virgin polyester but without such a cost to the environment. This means strength, wrinkle resistance and quick drying properties, but 75% less CO₂ emissions during production. That's on top of giving waste a genuine value. 
The production also avoids using yet more of a non-renewable raw material (crude oil) required for the creation of virgin polyester and consciously prevents toxic waste.  
In the future, we would like to recycle already recycled polyester, extending the lifespan of the material even more.