Eco
Held to high social and environmental standards
Pioneering PRE-ORDER to minimise overproduction
Fibres and fabrics that are better by nature
We Are Eco

B Corp™

Eco-materials

Made in Europe

No Overproduction

Climate Neutral
We Are Eco

B Corp™

Eco-materials

Made in Europe

No Overproduction

Climate Neutral
The PRE-ORDER System
As a brand with an environmental focus, TWOTHIRDS is proud to be different. Our visionary PRE-ORDER system reimagines the way fashion is made. Right from the beginning, we realised that most brands pre-make their collections and attempt to shift stock by using an aggressive approach to sales. But this is a wasteful strategy: it results in (an estimated) 10-30% of all clothing going unsold. Overproduction - the technical term for this toxic habit - is a controversial issue, and can result in landfill. Instinctively, we knew there was a better way.
Every collection is put on PRE-ORDER, giving our customers time to pick the styles they really want us to make. Because this helps to cut waste, from the fabric we order to the garments we produce, the benefits are reflected in a 20% discount.
Pre-ordered clothing is crafted over a longer period of time, an experience we believe slows fashion consumption to a more sustainable pace. We've perfected this system over many years, attracting a community of ocean lovers who support alternative fashion! PRE-ORDER goes hand-in-hand with everything we do, including producing our clothes in Europe.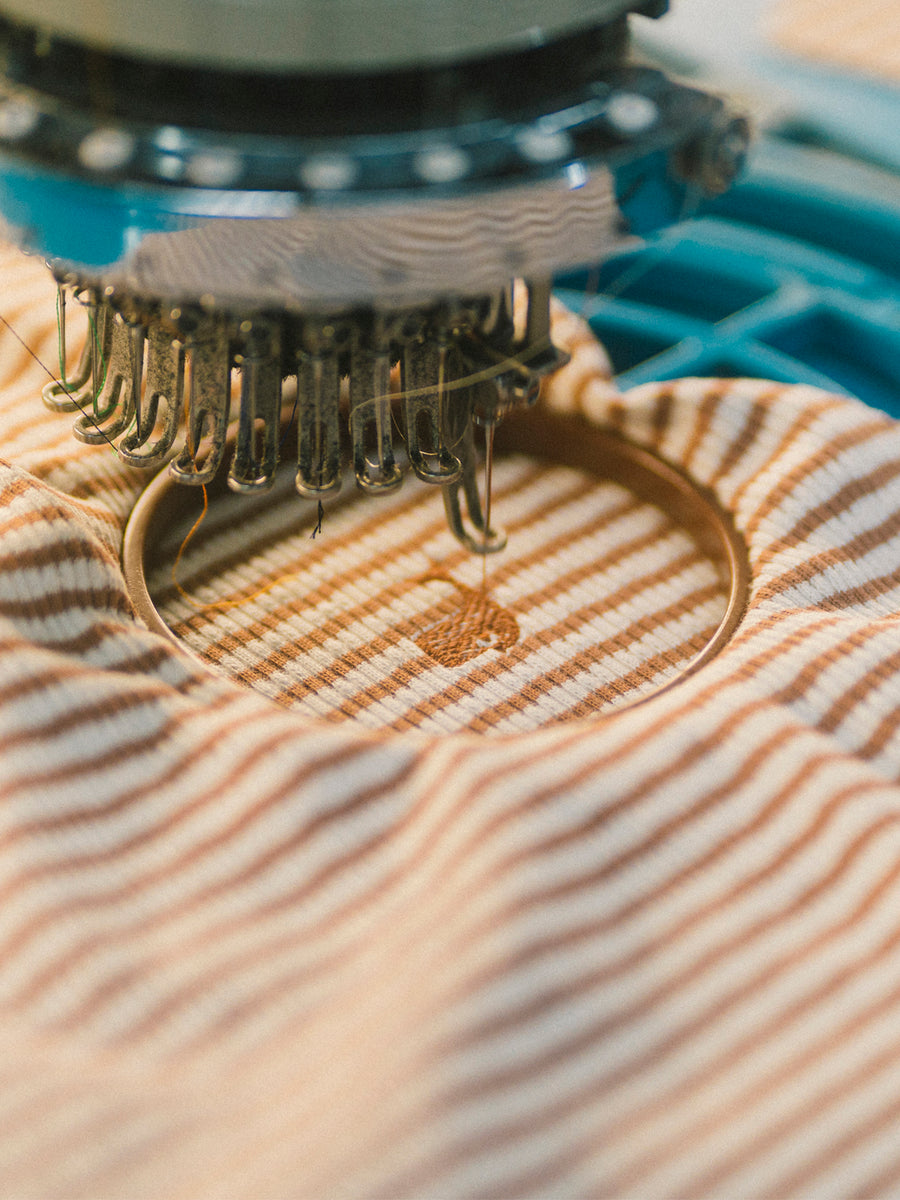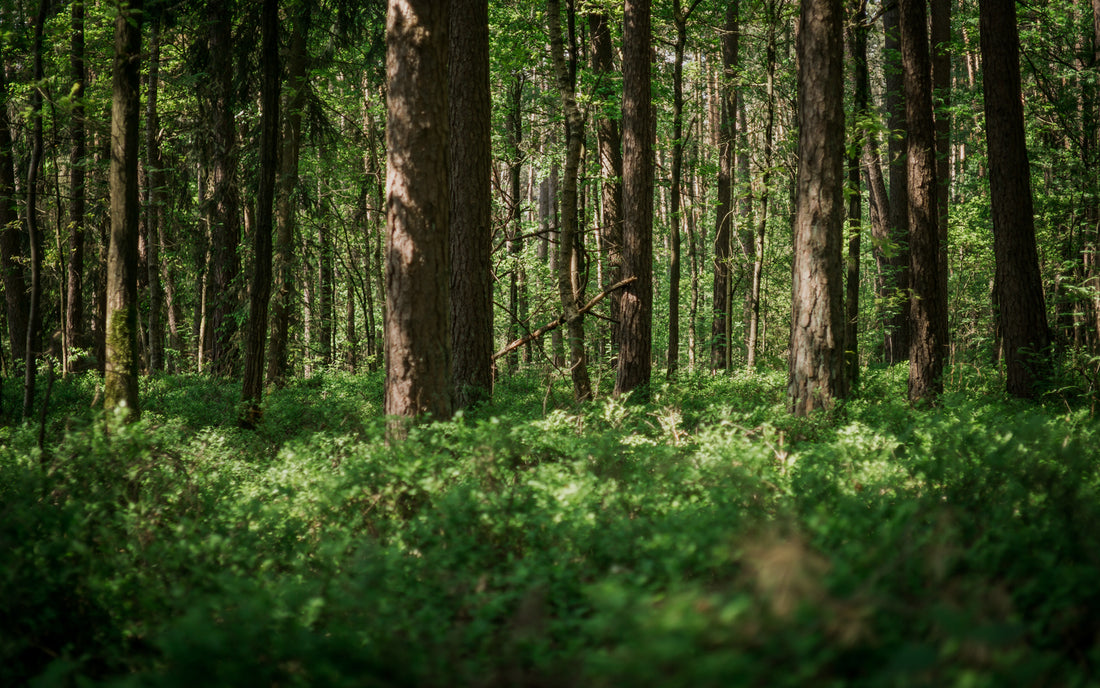 B Corp™
Using business as a force for good ™
High standards of social and environmental impact
A global network of changemakers
TWOTHIRDS is a certified B Corp™
Our company is now B Corp certified. This gives our customers another reason to place their trust in us, knowing that we strive for ethical and ecological excellence. B Corps are united by their desire to always improve, their belief in business "as a force for good", and their drive to put nature and people at the heart of the economy. The B in B Corp stands for Benefit for all.
Securing this certification took us 1 and a half years, countless internal discussions, and a continuous exchange of information. Was it worth the effort? Absolutely! We like that B Lab™ - the certifying body - assess companies in a detailed, holistic way. We performed best in the governance and customers categories, and received an overall score of 83.4 in 2022, well above the median (average) score of businesses who apply for the certification. The process will need to be completed every 3 years, so we intend to do even better next time. Specifically, our PRE-ORDER system is so unique, they didn't have an impact model to measure it! B Corp is an evolving standard, so we hope to change this in the near future.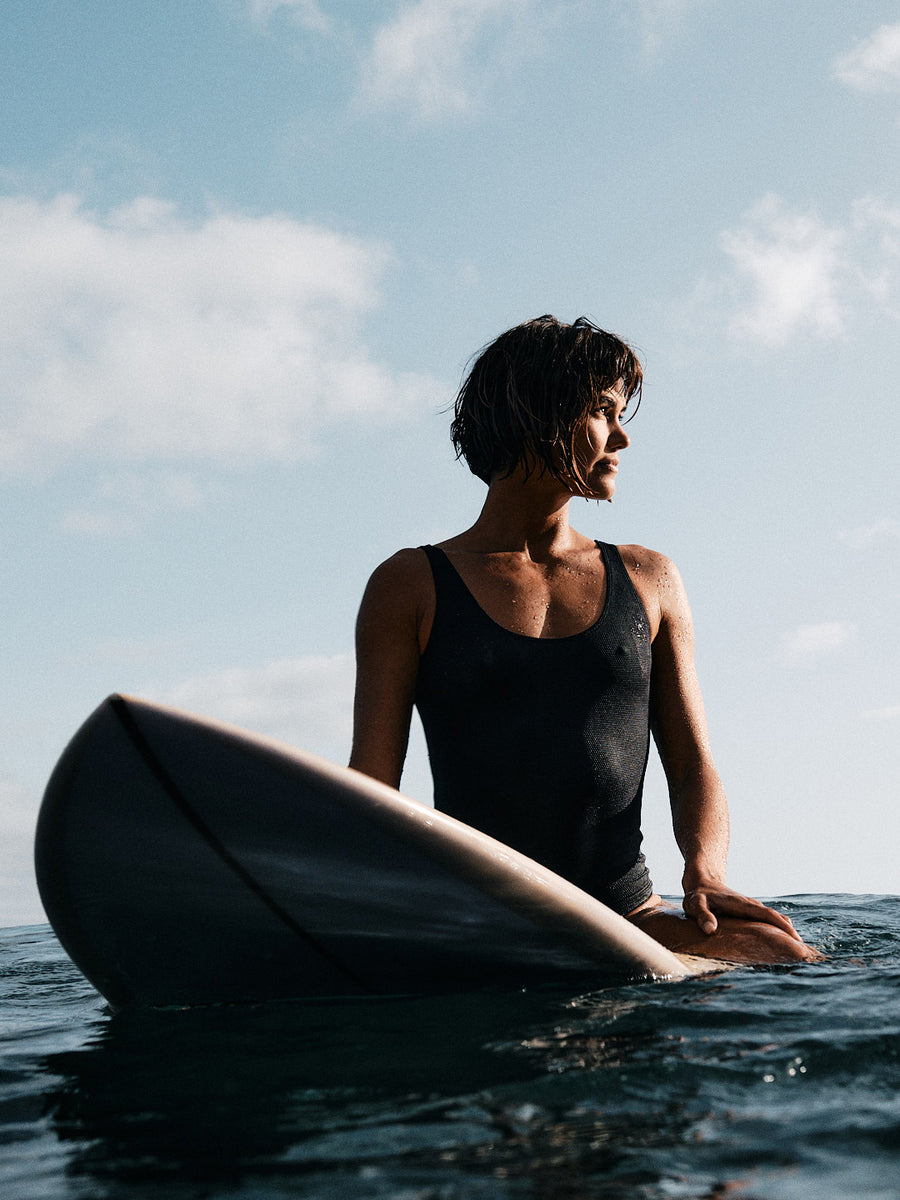 B Corp certification Covers 5 impact areas
Workers
How well a company treats its employees.
Governance
Mission, ethics, transparency, and accountability.
Environment
Environmental performance, from materials through to energy use.
Community
How well the company interacts with its business environment, such as suppliers.
Customers
How responsive the company is towards customers and their needs.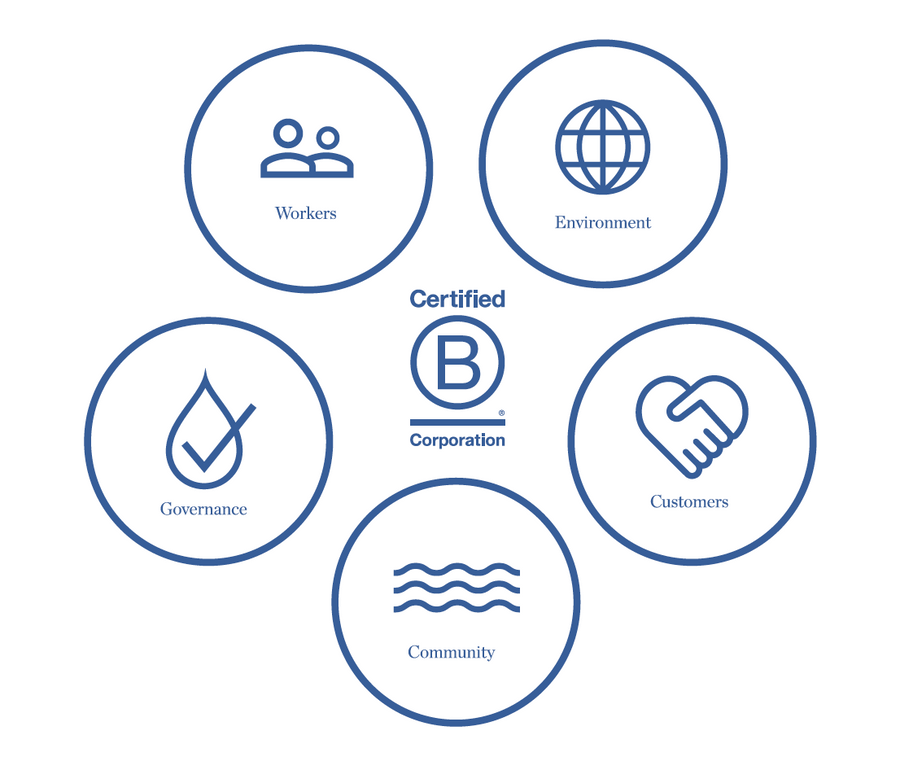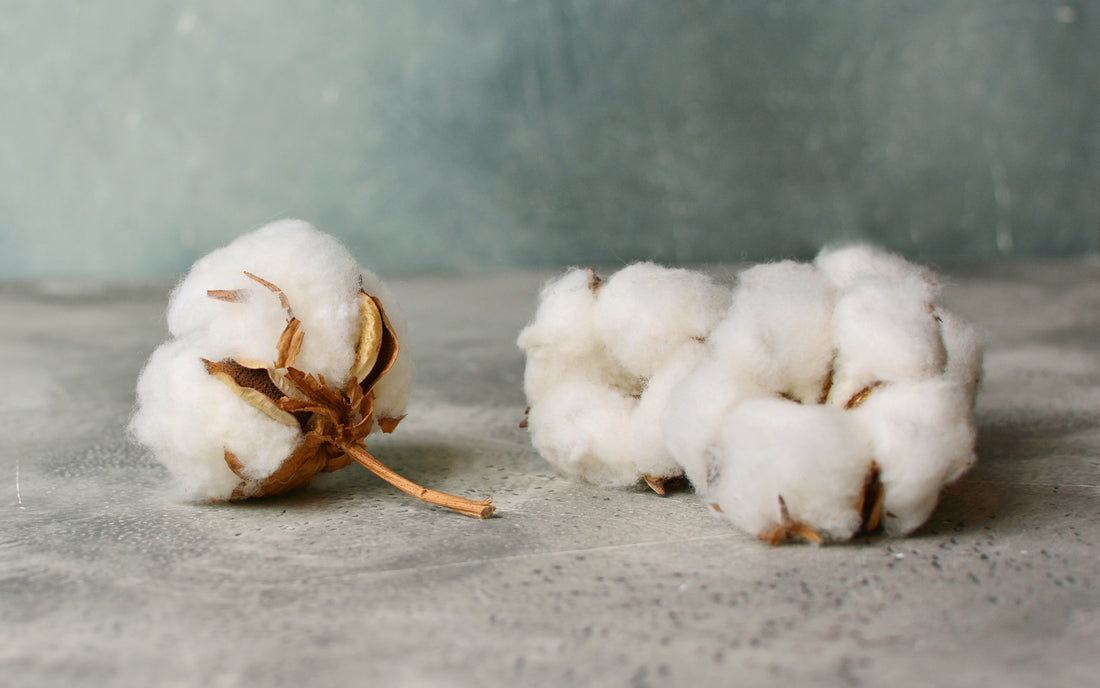 Eco-materials
Organic, biodegradable & recycled materials
Reduced environmental footprint of our materials: up to 90%
Less land and water usage, less toxic & climate friendly
The best from nature
Every garment, and every textile, has an impact. So when we talk about "eco materials" we mean that they have a significantly smaller social and environmental impact than the norm. Take cotton: covering 2,8% of global arable land while using 6% of the world's pesticides and 16% of its insecticides. Historically, it has damaged communities, run smallholder farmers out of business and drained natural habitats of their vitality.
Luckily, there are alternatives. TWOTHIRDS use a variety of fibres to omit the use of conventional cotton, such as TENCEL™ lyocell, hemp, linen (or by its crop name: flax) and of course organic cotton. These alternatives have different characteristics, which is why we use them for unique purposes. But they all have something in common: they demand less resources than conventional cotton and have less negative environmental impacts, which in turn is better for every element involved. Soils, rivers, waters and air stay clean while communities and their farmers lead healthier, more secure lives.
Conventional vs TWOTHIRDS
Quality. Time.
A seismic shift at the start of the 21st century saw clothing production double in just 15 years (2000-2014)! This rise was mirrored by a decrease in the length of time we actually hold onto our clothes. Some countries, like the UK and Germany, now consume more than 1 million tonnes of clothing every year. The phenomenon of fast fashion comes with spectacular numbers. And spectacular social and environmental problems.
We think that the solution to more sustainable fashion lies not simply in using different fabrics, but also comes with longevity.

And longevity is created through timelessness paired with quality. Timelessness is clearly a question of thoughtful design. Quality - on the other hand - is created by taking the right steps when producing clothes: from the quality of the raw material to the production processes to the know-how of our suppliers. We keep production as local and centralised (concentrated in one place) as possible so that we can have full confidence in our clothes and their ability to last.

We work closely with our suppliers in Portugal, France, Italy and Spain. The same ones we have relied on for years, resulting in relationships built on trust and security. By keeping the distances short, the connection to our suppliers is more direct and enhanced by frequent visits. Therefore, we know how our suppliers work and they know how we think. Apart from that, we pay attention to the details. Trimmings, such as zippers and buttons, are a major reason for products to be thrown away. So by using high quality trimmings, we make your products last longer!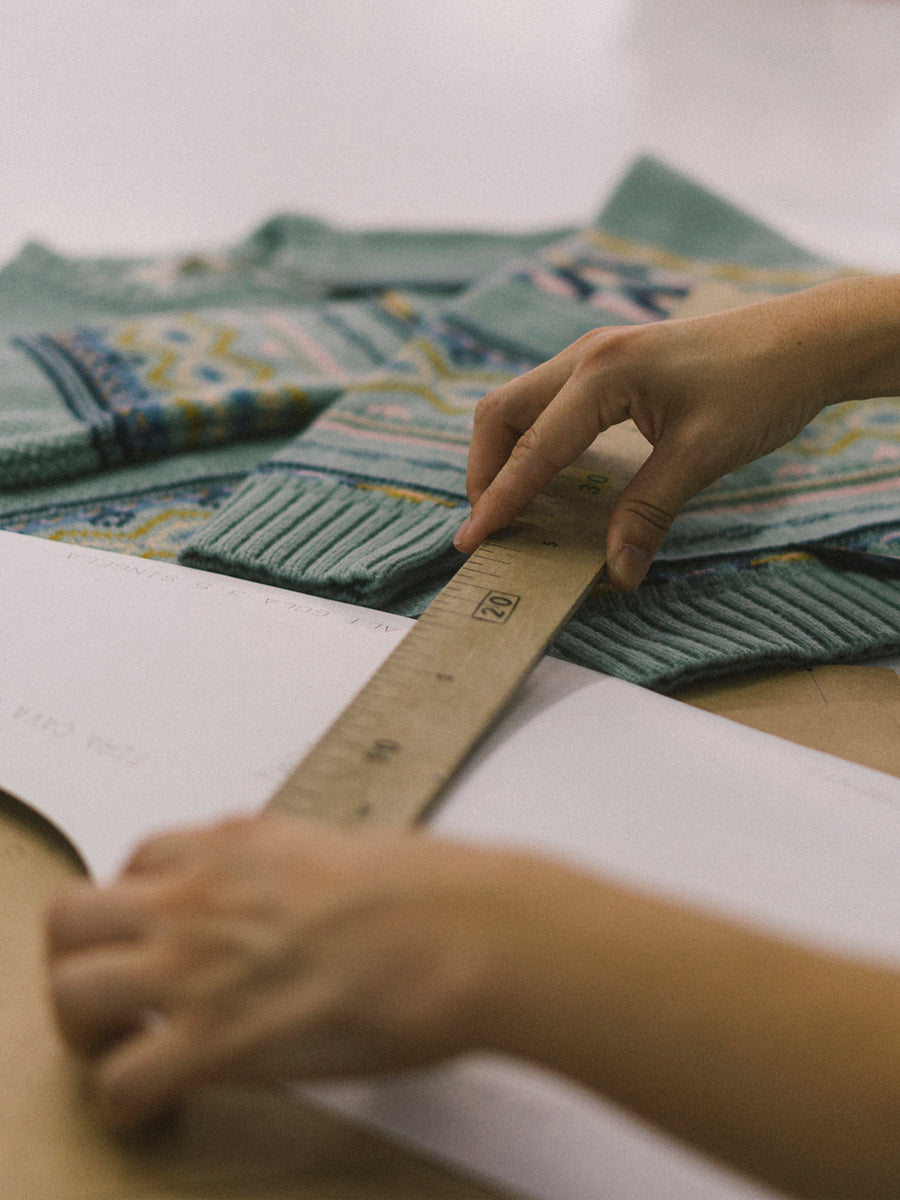 Recycling and Reusing
Currently one garbage truck of textiles is taken to landfill or incinerated every single second. We believe this is a tragic loss of resources. But we also see signs of hope in the form of recycled fibres, which have become central to our material mix. This could be leftovers from production processes, post consumer waste, materials recovered from the environment - especially the ocean - and deadstock. This is a byword for fabrics that have been produced but are either surplus to requirements or are no longer desired by the brand who ordered them. We're happy to pick up the slack - using these leftovers as the source material for our popular Limited Edition Collections.
We recognise that a key aspect of material and societal sustainability is the reduced use of resources

This is followed by the creation of fabrics and blends that meet our quality criteria such as recycled nylon, recycled cotton and recycled polyester. They protect resources and reduce CO2 emissions. For example, the production of Econyl, a recycled nylon, emits around 60% less greenhouse gases compared to the production of virgin nylon. These recycled fibres also require less water to make than freshly made equivalents. On top of that, we proudly support innovative technologies that make a genuine difference!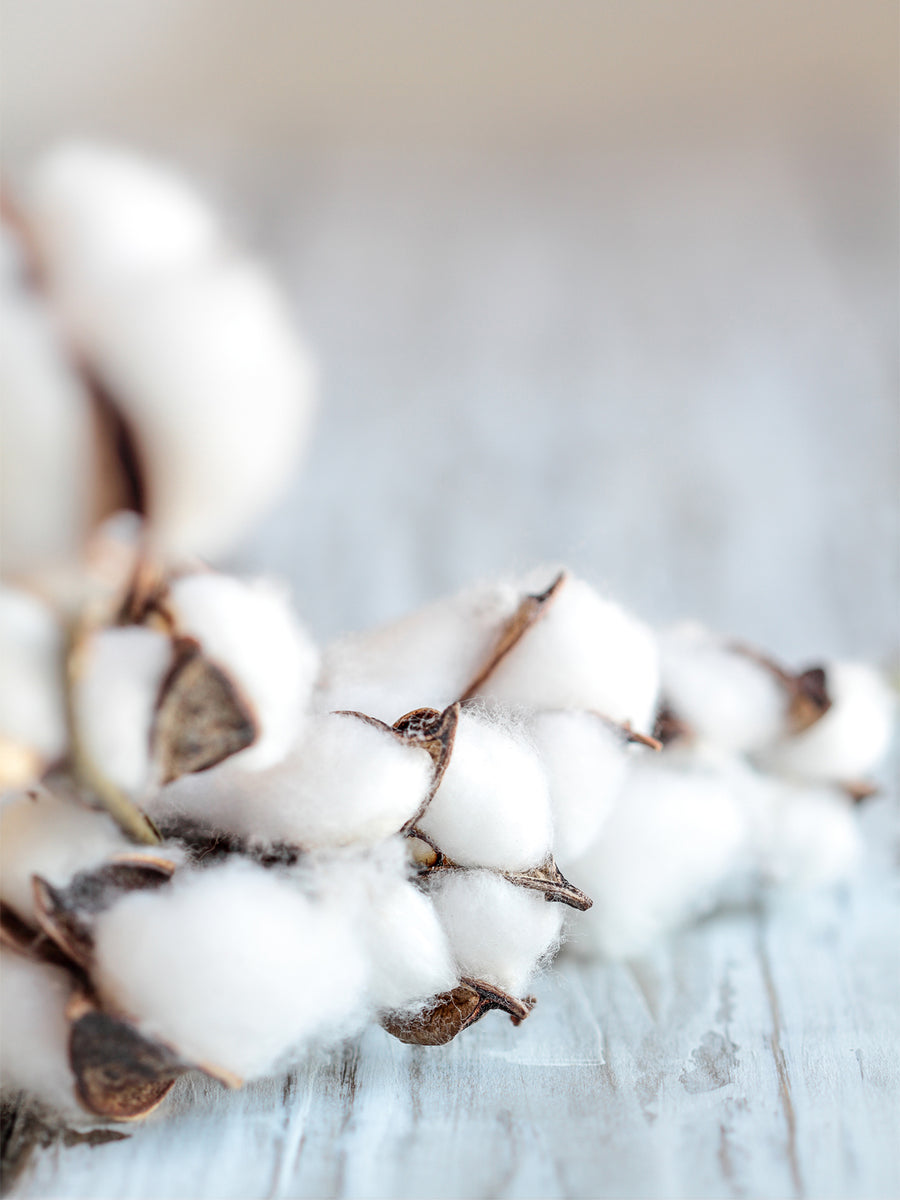 Reduced water usage in production processes
Quality deadstock fabrics
Recycled fishing nets and other waste materials from the environment
Made in Europe
Close supplier relationships increase transparency
Superior European Quality

Regional production is a key aspect of the TWOTHIRDS supply chain. All manufacturing stages take place in Europe, mostly in Portugal, France or Italy. Some raw materials also have European origins, for example Shetland wool or Flax - the raw material for Linen.
European Craftsmanship
The production of TWOTHIRDS clothing is divided in three production steps: the raw material phase, the fabric production phase, and the clothes production phase.
Our production phase is located in Portugal for good reason: the Northern region of the country has a traditional textile manufacturing industry, known for its high quality and precise craftsmanship.

Additionally, frequent on-site visits enable us to create long-term and trustworthy relationships. We strongly believe that security and fair payments create an environment of trust, which benefits all actors involved in the making of the product. By keeping the final production stage local and centralised we can achieve exactly this, which makes us not only proud but also convinced about the superior quality of TWOTHIRDS clothing.

We are also very happy that the production facilities, where the so-called wet processes take place (such as dying and washing) have on-site wastewater treatment plants, contributing to increased water quality in Northern Portugal. By producing in Portugal we not only ensure that production is made closer to home, but also that it is actually better!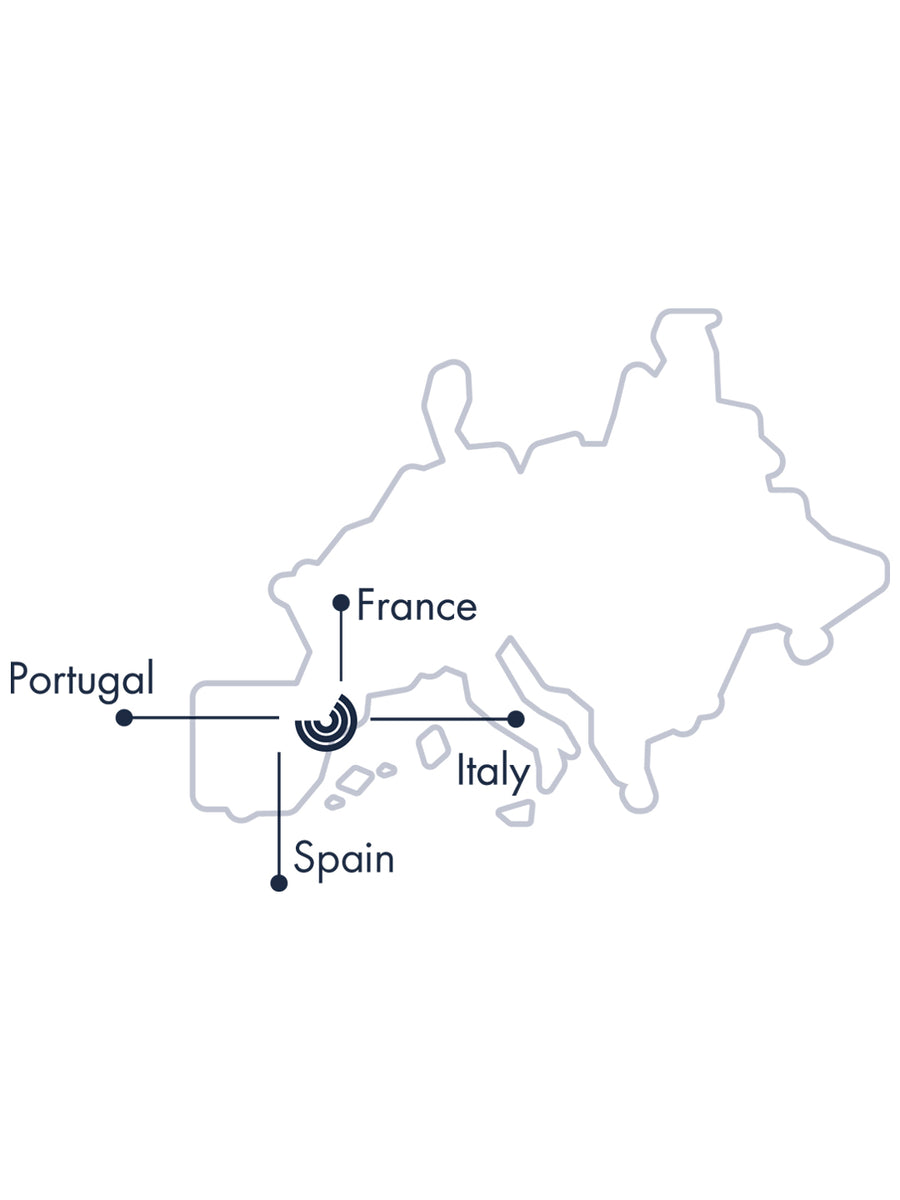 RAW MATERIALS PHASE
The raw materials come from several parts around the globe, including the EU, China, or Argentina. The second and third phases take place exclusively inside the EU.
FABRIC PRODUCTION PHASE
Our fabrics are produced in different countries: Austria, France, Italy, Portugal.
CLOTHES PRODUCTION PHASE
The final manufacturing stages (that is, cutting and sewing) all take place in Portugal and Spain.
Wages and work safety
Payments and safety are two huge issues in the fashion industry - just remember all the horrible stories of collapsing production sites in Bangladesh. Here, committing to producing only in Portugal, Italy, and France means we can be sure that the production facilities are regulated under European standards and are therefore safe.

It's also very important that our workers receive a living wage, rather than a poorly calculated minimum. This means providing a salary that meets all needs, without worry of monetary shortcomings. In Portugal and France (in Italy there is no official minimum wage), the minimum wage is at least as high as the living wage, which is unfortunately not the case in Bangladesh or India. For more information on minimum and living wages, check wageindicator.org.
Manufacturing in Europe means security standards in production facilities that lead to improved work health, no unpaid extra hours and no exploitation.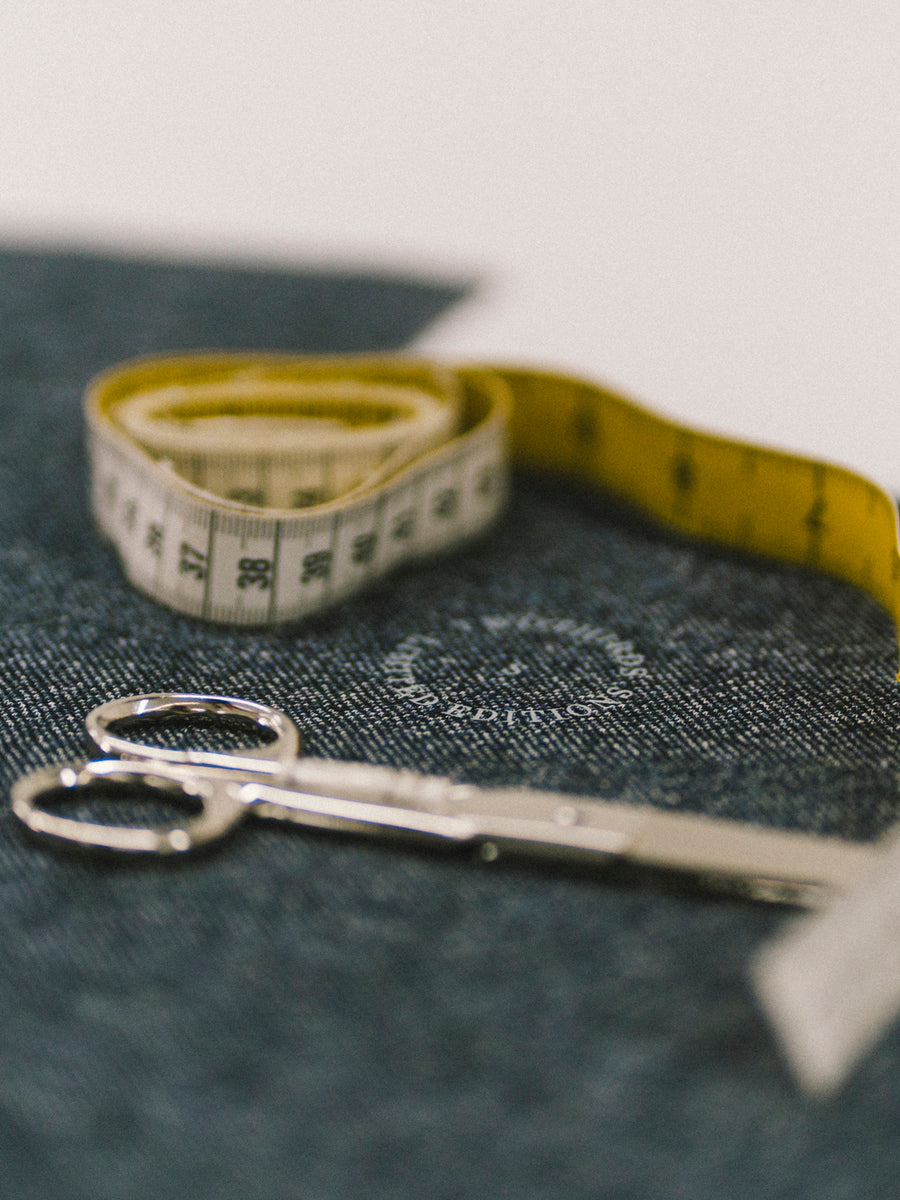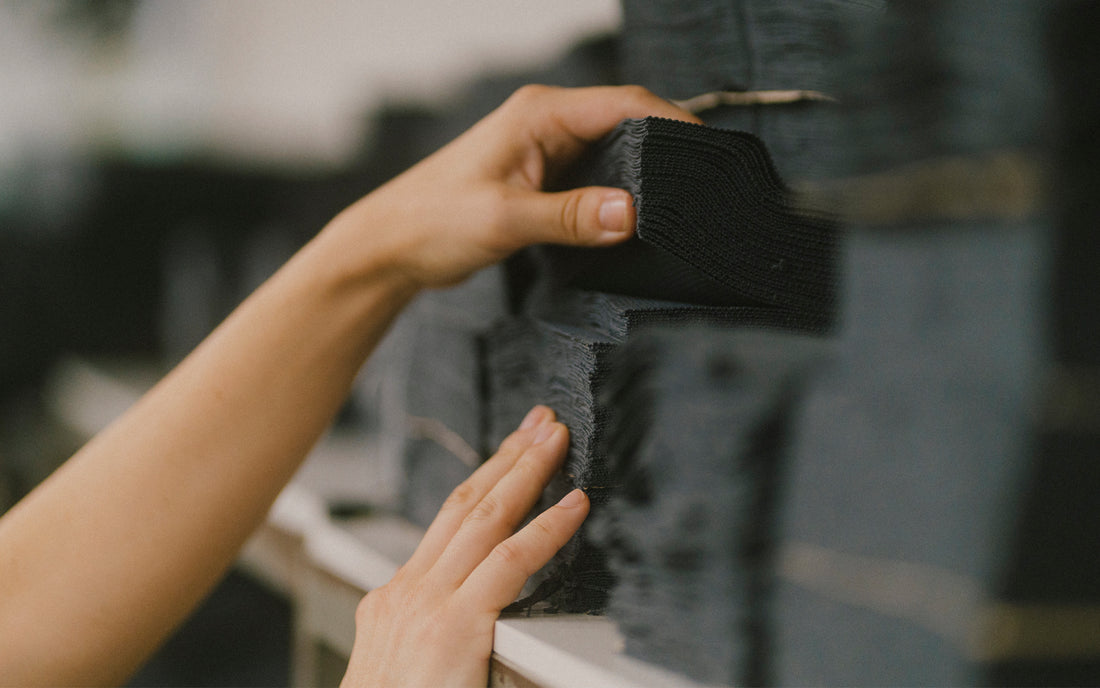 No Overproduction
Quality deadstock yarns and fabrics sourced in Europe
In-house deadstocks
we use every thread
Use deadstock from other brands
Use what we have
At TWOTHIRDS, we not only produce what is ordered, we also use what we have. In the event that a garment does not sell post-production, we turn the material into something else. Consequently, we never produce deadstock. This is a quantity of product that a company has bought or made but is unable to sell. For example, the fabrics that are ordered by companies but are not turned into a product, become deadstock. There are brands that use the fashion industry´s deadstock to produce their own garments (we are one of them!), but we think it is the best option to never produce any excess stock in the first place.
Sustainability comes from the heart:
we want every item of clothing to be cherished, turning the tide on throwaway fashion.

TWOTHIRDS' policy is to use the fabrics we have left at the end of the season for the next season in a different piece. The same applies to trimmings and all kinds of smaller items that are used in our clothing. Our mindset is: use what you have, before thinking of something new. This makes our production a little more challenging than it normally would be, but we like being creative with the resources we have to hand. We think this is quite a valuable approach for other parts of life too.
Deadstock Yarn

Excess yarn spools left with our local suppliers by fast/luxury fashion brands whose ready-to-buy business models create waste and overproduction. Often only available in small quantities, we use deadstock yarn to create ocean-friendly knitwear.
Deadstock Fabric

Ready-made fabric rolls that usually come dyed. The result of fast/luxury fashion overproduction and production run cancellations. Often available in large quantities, we use fleece, jersey, and woven deadstock fabrics.
In-House Deadstock Fabric 

On very rare occasions TWOTHIRDS produces its own deadstock fabric. This occurs when PRE-ORDER purchases are cancelled or offcuts are created during production. We're dedicated to using every last thread of this leftover material and do so by creating small production runs of tote bags, backpacks and even pencil cases!